For all of you that are planning on hiring the "Dixieland Banjo Man" for an upcoming occassion or party, you have something marvelous in store!
For those of you who do not know me, my name is Brett Boyd or as people refer to me as the "Dixieland Banjo Man". I can be hired for an upcoming birthday, anniversary, or any special occasion. I usually bring one or two or maybe three of my fellow (excellent) banjo players with me from a widely famous banjo band called "Justa Buncha Banjos"that I am a current member of. You may be wondering why an average teenage boy is interested in the banjo and not listening to pots and pans clanging on the ceiling like most of the horrendous music out there these days? The reason? Well, as a young 5 year old boy, my Grandfather, a professional trombone player who played in Sammy Kaye's orchestra, was a member of the same banjo band I am now a member of. He used to take me to all the rehearsals, and I would sit next to him and tap my feet to all of the hits from the 20's 30's and 40's! Please do not assume I am doing this as an easy way to make money, because most of the time I perform without asking for money, but I perform for others' enjoyment. However, I must say I enjoy the music just as much if not more than the people for whom I perform for. Thank you for visiting this site and I hope you enjoy the webiste!
-Brett Boyd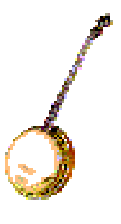 Just to name of a few examples of songs that have grown immensly popular in my peroformance programs:

-Is It True What They Say About Dixie

-Raining in My Heart

-Coney Island Washboard

-Banjo Picker's Ball

-If I Had My Life To Live Over

Those are just a sample of the some-odd 100 songs that are quickly becoming popular among people that hire the "Dixieland Banjo Man".